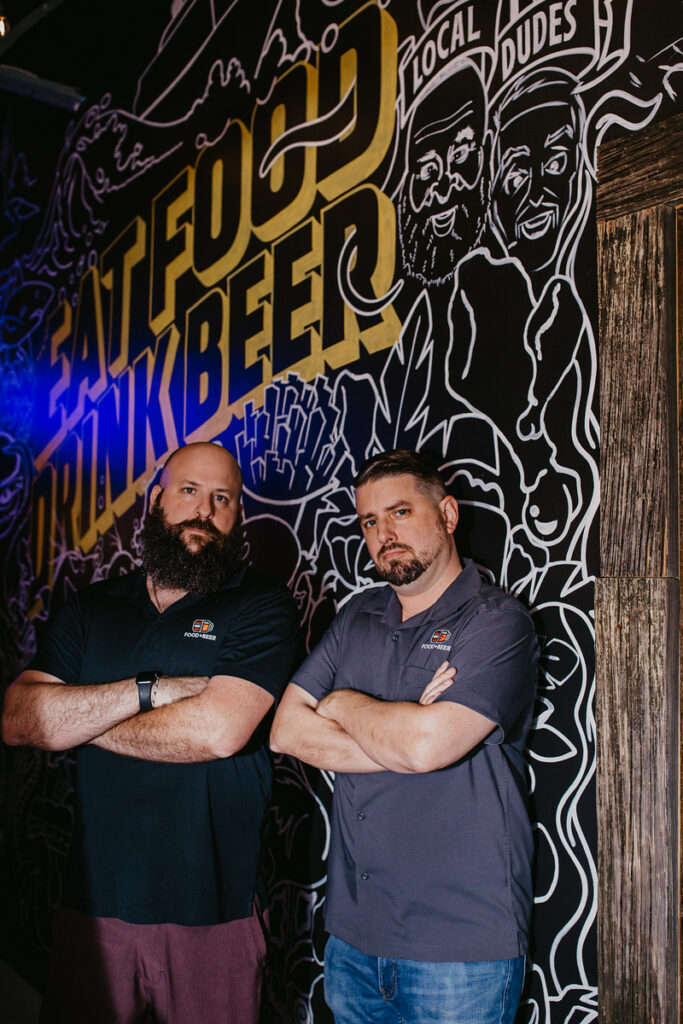 LOCAL DUDES COOKIN' LOCAL FOODS---
Come as you are… there's no dress code here.
You see, life is pretty serious, and once you walk through our doors it doesn't have to be anymore.  We are serious about you having a good time and eating well.
You watch food network, don't you?  Thought so!  We are a foodie's dream come true.  Our kitchen is stocked with fresh ingredients and people who know how to use them!  French fries should come from potatoes & not a freezer bag, right?
Dinner with the fam?  Girls/Boys night out?  Just watching a game solo?   Whatever your vibe, we've got you covered.  Midnight snacker?  We're keeping the kitchen open late serving the full menu until close.  Weekend brunch game strong?  Couldn't be any stronger!  Ever had a red velvet chicken & waffle or a hot chicken benedict?
MEET THE DUDES---
Casey and Mike met years ago in the kitchen of a chain restaurant in the early 2000's.  Mike was a hungry server who wanted to eat an employee meal and Casey was a busy kitchen manager that refused to cook it.   Years later the two grew closer and worked for a restaurant group opening restaurants all over the west coast of Florida.
With a strong hospitality background and having passion for food and service, the two decided they wanted to do their own thing.  In 2017 they started looking for locations for their concept.  They chose Gulf Gate because it was a good local Sarasota neighborhood with a local feel and lots of great places within walking distance.
The concept was to have scratch made food that was anything but ordinary but still easy to comprehend.  Also having vegetarian items & bowls for the health-conscious diner was important to them as well.    People like making their own combos and trying different things so the menu is set up ala carte and affordable.  Value is very important, and dining here won't break your budget.
EAT FOOD, DRINK BEER!